IMPORTANT 2023 ROAD CLOSURE INFORMATION
Preliminary road closure information is listed below. Please check back prior to the event date for final confirmed details.
N. Broad St. closed Thurs, Oct 12, from 6:00 am to 6:00 pm
Fri, Oct 13 from 6:00 am through Sun, Oct 15 at 4:00 am
     -Milton Ave. from the Milton Ave parking deck entrance to HWY9
     -Roswell/Canton St. from Old Roswell St. to Old Canton St.
     -Old Roswell St. from parking lot entrance to Milton Ave.
Fri, Oct 13 from 9:00 am through Sun, Oct 15 at 4:00 am
     -Commerce St.
     -N Broad St.
     -Market Street from Academy to S. Broad St.
Fri, Oct 13 from 3:00 pm through Sun, Oct 13 at 2:00 am EACH night
     -Hwy 9 from Milton Ave to Old Milton Pkwy
     -South Broad St.
     -Market St. from S. Broad St. to City Hall parking deck entrance
Fri, Oct 12 from 4:00 pm through midnight EACH night
     -Park Plaza from Academy St. to City Hall parking deck entrance
BY CAR: From 400 northbound, take a left off of Exit 9 – Haynes Bridge Road. Parking will be available for attendees at the City Hall parking deck (2 Park Plaza), Roswell Street lot (45 Roswell Street), and the parking deck (90 Milton Avenue) accessible via the Roswell Street lot. General parking information for the City of Alpharetta is listed HERE.
BY RIDESHARE: For event drop off/pick up, please route all Uber and Lyft rides to 27 Old Roswell Street in the Old Roswell parking lot.
BY PUBLIC TRANSPORTATION: Take the MARTA red line to North Springs Station and transfer to the 141 or 185 bus. Exit the 141 bus at the intersection of Haynes Bridge Road & Thompson Street or the 185 bus at South Main Street & Janis Lane. Please note that MARTA services run until 1:00 am on weekdays and 12:30 am on weekends. Visit MARTA for specific train/bus schedules and other rider alerts.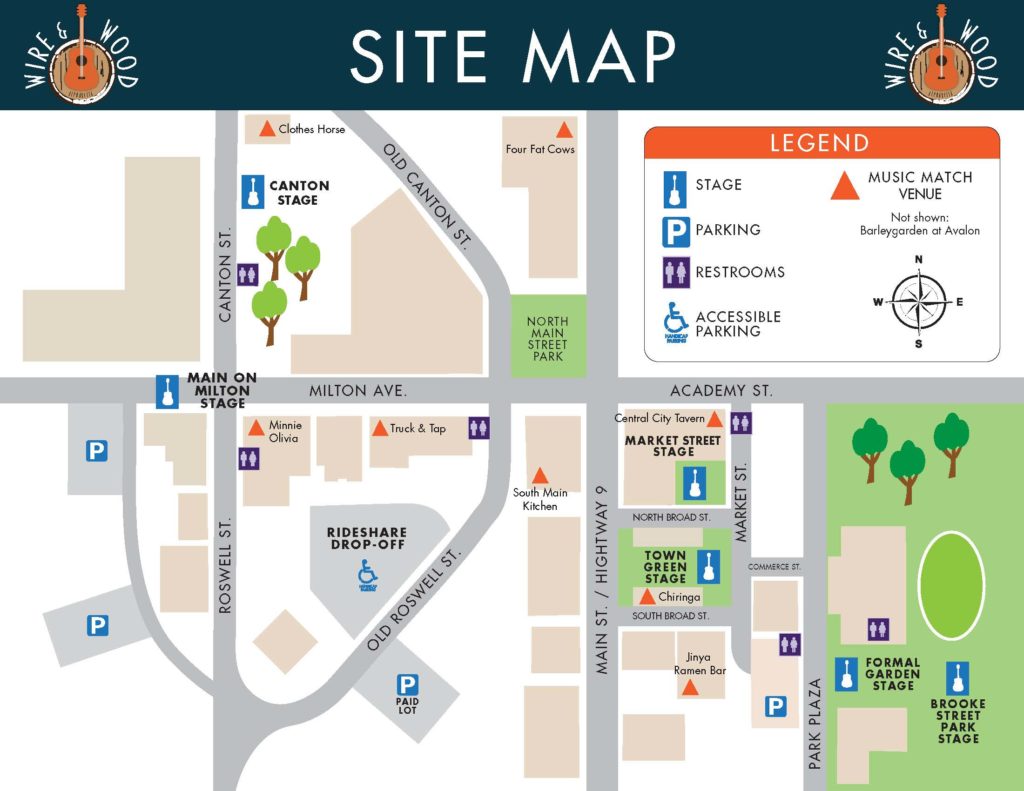 Traveling to Alpharetta to enjoy Wire & Wood this year? Alpharetta area hotels are offering special rates for festival fans.
Click HERE for a full listing of  hotel options and ask for the Wire & Wood rate!